Metals, Glass and Paper Industries
Consultancy
For these important manufacturing industries ISC undertakes control troubleshooting and control design projects on any part of the production process. The work can involve finding solutions to problems that may be limiting production, proving process re-design through simulation ahead of trialing the changes on plant or developing new control strategies.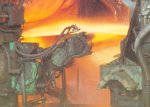 We also run a Rolling Mill Academy that provides training and awareness for engineers working in rolling mills. See here for the latest information on our next one.
For people working in hot and cold rolling mills, ISC run an annual international Rolling Mill Academy. We also run a more general Process Control Academy training event, details of which can be found here.
Our clients include Corus, Innoval, UPM-Shotton and UPM Caledonian Paper, St Regis Paper.
Example Projects
Aluminium Rolling Mill

- Investigation into bouncing of ironing roll and control of force and position through a hydraulic ram.

Redesign of a Water Condition Plant

- A paper mill needed to reduced its effluent, a proposed system to recycle gland sealing water was modelled and dynamic variations on water temperature were assessed.
(Download project note)

Paper Mill VSD energy audit

- An audit on the use of variable speed drives to replace throttled valves was undertaken for all large pump/motors at a paper mill. This resulted in the development of template calculations for application across the various mills operated by the client company. (Download project note)

Paper Mill pH Control

- Instability in density and pH of a clay slurry was originating from the use of on-off control used for acid dosing. A model was built to simulate how proportional control would behave, which was subsequently implemented. (Download project presentation)

Flat Glass Production

- Various control loops were developed in simulation before being applied to the production plant. The controls looked at edge tracking, width control and profile/shape control.