Bespoke Training Courses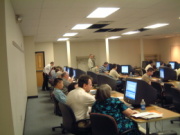 We also develop and deliver bespoke training courses in a wide range of subjects.
Should you require a training course not currently served by our standard courses or would like material that is specific to your industrial application, ISC would be happy to discuss your training requirements.
We have developed and delivered bespoke training for several clients including Rolls-Royce Marine, BAE Systems and Danieli Automation.
Examples include: